Bonne nouvelle: les professeurs et étudiants du CIG ont remporté le World Chinese Student Composition Competition Award
[22.02.2021]
Good news: CIG teacher and students won the World Chinese Student Composition Competition Award
Recently, after 7 months of organization and implementation, the 21st "World Chinese Student Composition Competition" announced its special prizes, first, second and third prizes.
This competition was co-sponsored by China Federation of Returned Overseas Chinese, All-China Federation of Taiwan Compatriots, People's Daily Overseas Edition as well as Happy Composition Magazine and other units. It attracted more than 3 million Chinese students from 39 countries and regions to participate. Based on the principles of openness, fairness and justice, the expert jury of the competition strictly implements the manuscript review system of preliminary review, re-review and final review. The first and special award-winning manuscripts are all crosschecked by the provincial expert judges plus unified review. This process strictly filters plagiarism.
CIG student Yuwa AN won the first prize.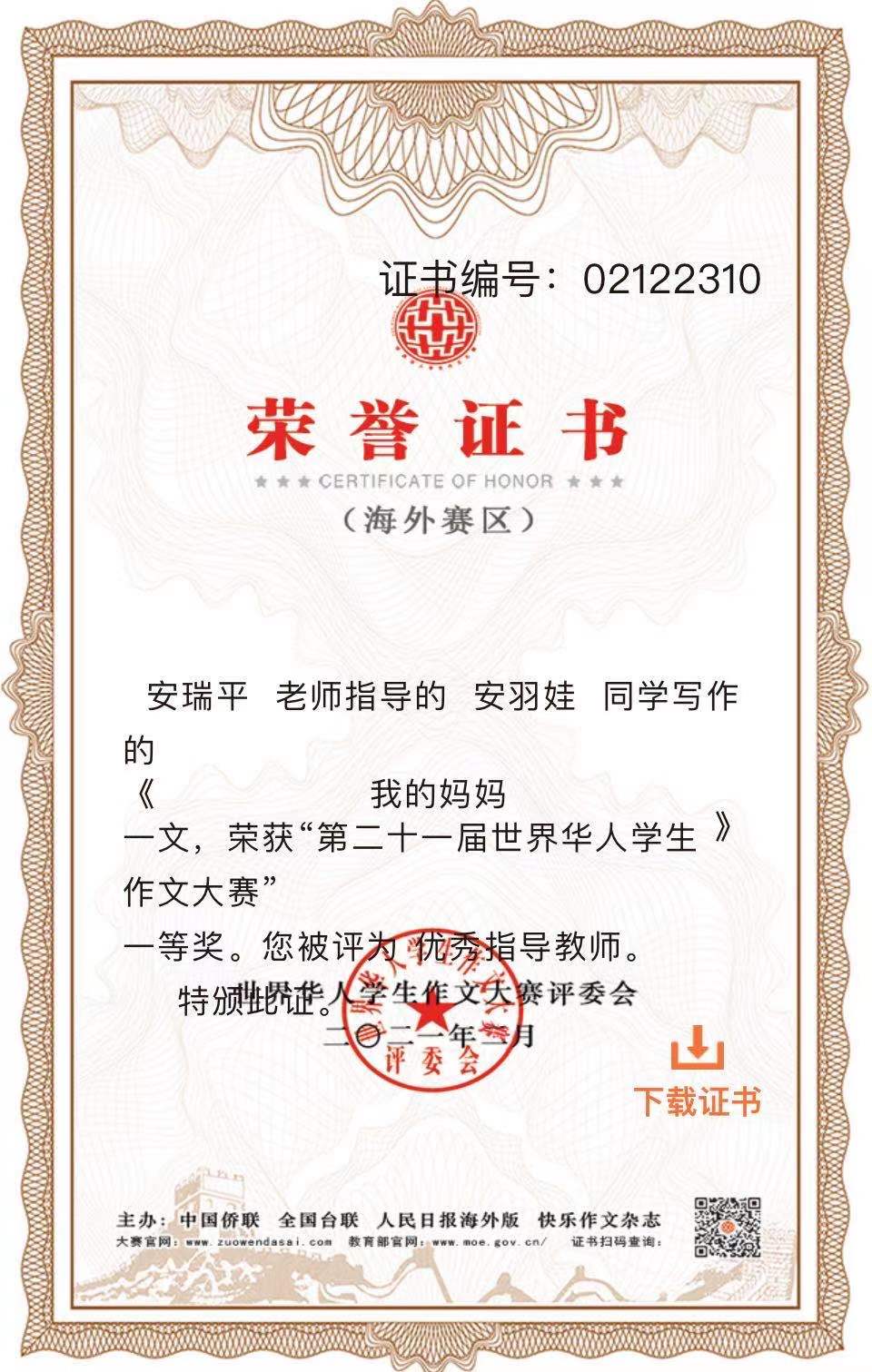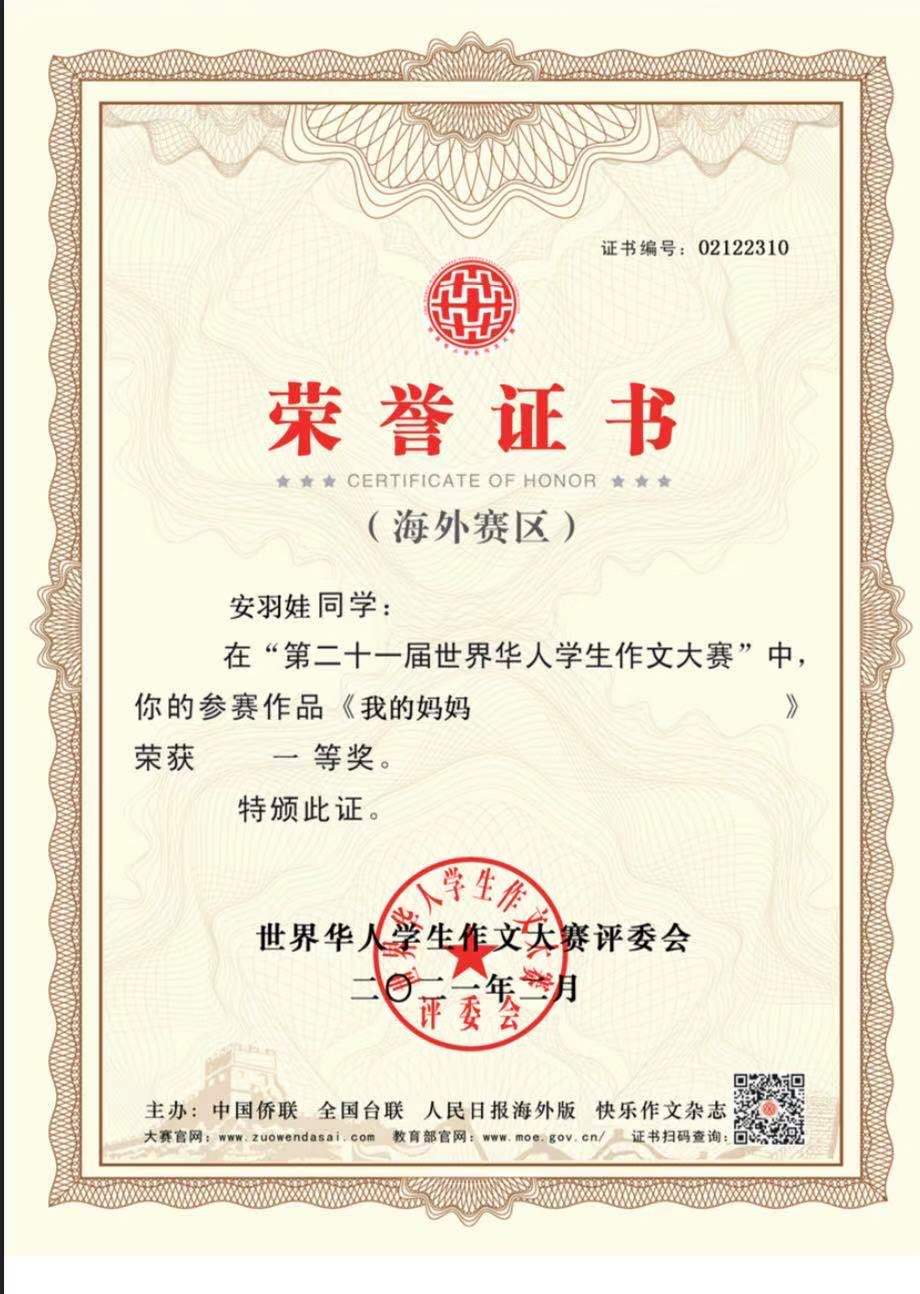 CIG teacher Ruiping AN won the Excellent Instructor Award.
CIG student Wu ZHANG won the third prize.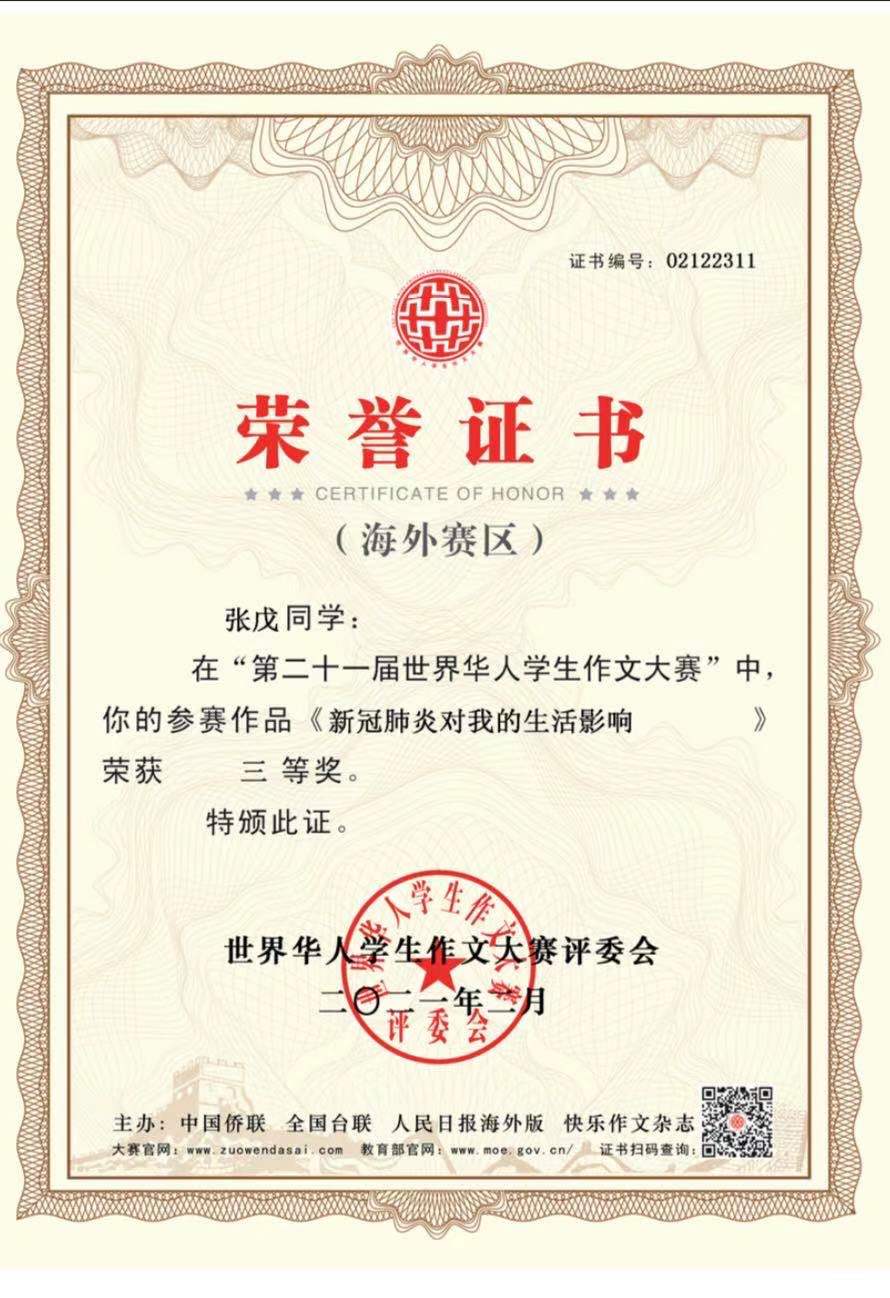 The World Chinese Student Composition Competition was founded in 2000 and has been successfully held for 21 sessions. Millions of Chinese students at home and abroad participate in each competition. It is one of the three national essay competitions recognized by the Ministry of Education. The other two competitions are the National Middle School Student Science Fiction Composition Competition and the "Ye Sheng Tao Cup" National Middle School New Composition Competition. With the standardized management of the Ministry of Education's competition activities and the increasingly clear registration requirements for independent selection by universities, the value and importance of the competition is self-evident. This competition also provides a new opportunity for the overseas Chinese youths who are preparing to participate in the "Overseas Chinese Hong Kong, Macao and Taiwan Joint Examination" in order to study in domestic prestigious universities.
In 2020, the COVID-19 pandemic is raging, yet the power of words travels through time and space. Let us use Chinese language to tell our stories, share our state of mind, and convey our aspirations.
We sincerely congratulate the winners, and thank other students who actively participated in the composition contest. We wish you all greater progress in your Chinese learning!
CIG will persist in helping everyone learn Chinese language and culture.