2021 hard pen calligraphy public welfare class-comprehensively improve writing ability, standardize and beautify the writing of Chinese characters
[22.02.2021]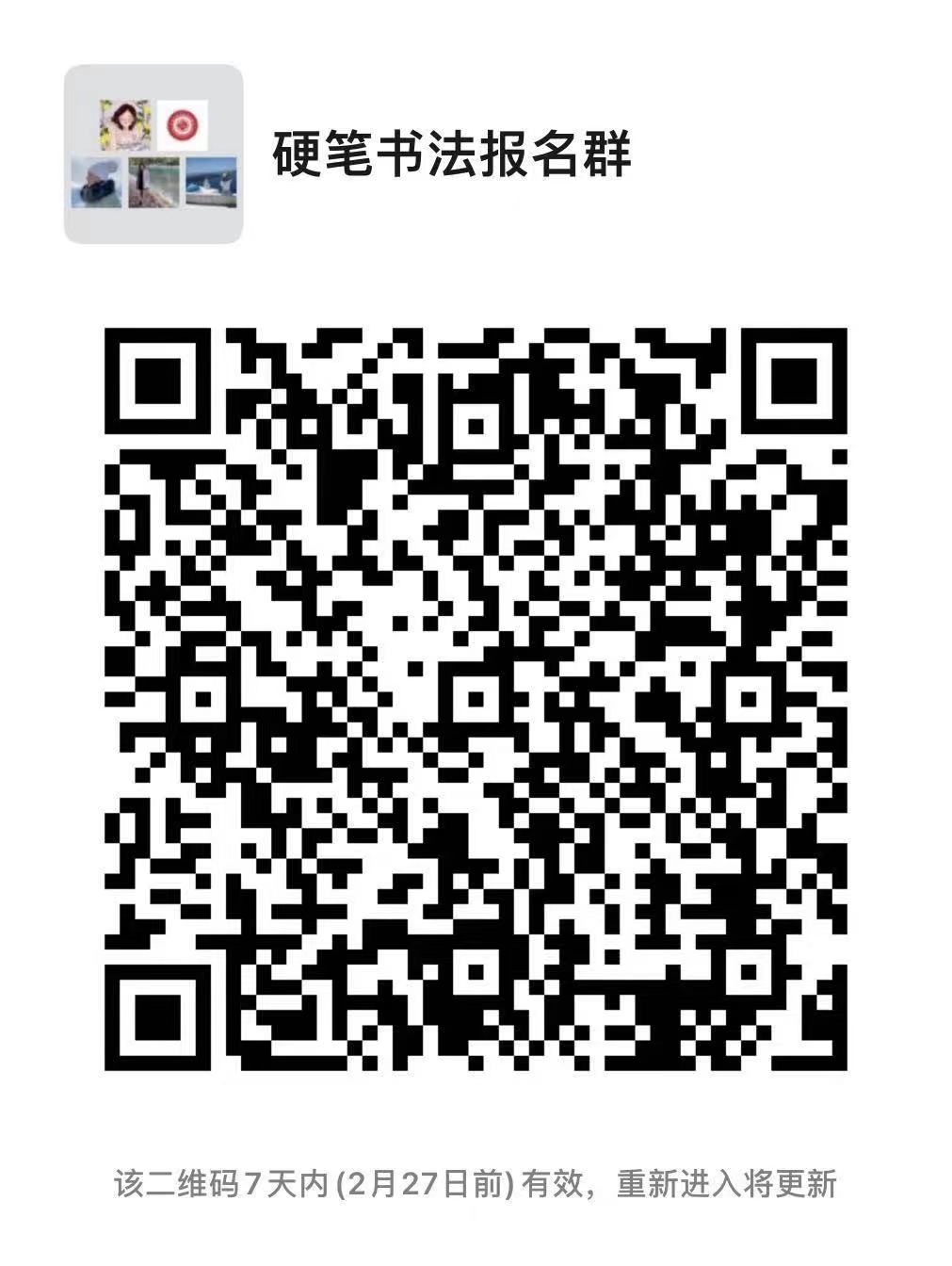 2021 Pen-and-Ink Calligraphy Public Welfare Class
Organizers: Overseas Chinese Affairs Office of Jiangsu Province, China
Overseas Chinese Affairs Office of Changzhou City, Jiangsu Province, China
Changzhou University
Co-organizers: Chinese Institute Geneva Foundation, Switzerland
Lisbon Chinese School, Portugal
1. Benefits of practicing pen-and-ink calligraphy
Help children improve their Chinese
Enhance their cultural accomplishment, aesthetic taste and talent
Cultivate their observation, analysis and expression skills
Help them develop meticulous, focused and lasting learning qualities
A good handwriting makes the children more confident and more affinity.
A good handwriting benefits the children a lot in life.
2. Class schedule
Beijing time 18:00-18:50
Swiss time 11:00-11:50
Portugal time 10:00-10:50
15 classes in total (every Saturday from March to June)
March 6, 13, 20, 27
April 3, 10, 17, 24
May 8, 15, 22, 29
June 6, 13, 20
3. Teaching goals
Cultivate students' good writing habits and writing skills
Comprehensively improve their writing ability, standardize and beautify their Chinese writing
In March and April, we will start with the correct pen holding posture and teach the basic content of Chinese character writing, including Chinese character strokes and structure
In May and June, we will lead the students to study and experience, and to complete pen-and-ink calligraphy works
4. Introduction of teachers
Ms. Yuman DI (March-April course teacher)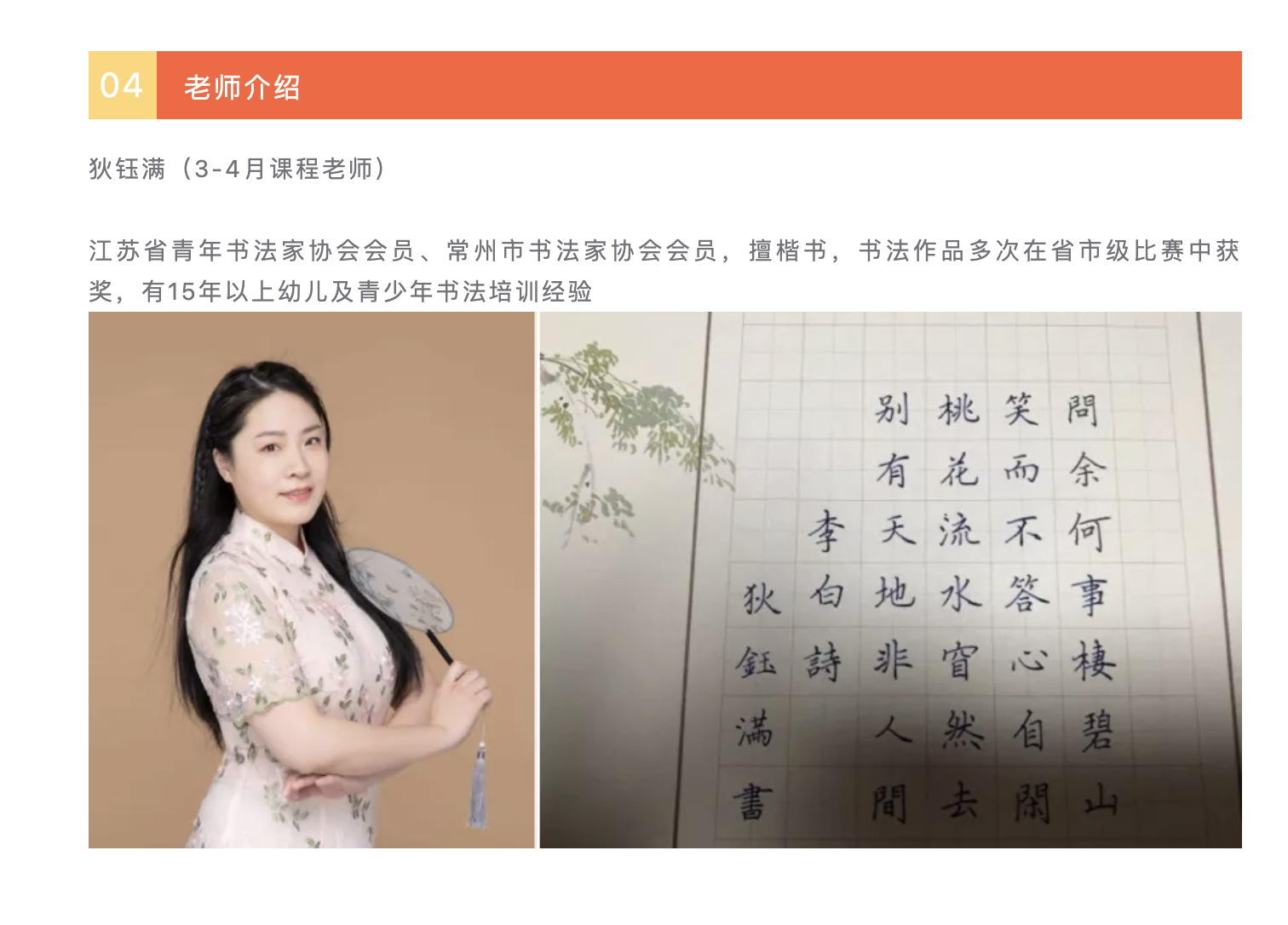 Member of Jiangsu Young Calligraphers Association and Changzhou Calligraphers Association. She is good at regular script. Her calligraphy works have won many awards in provincial and municipal competitions. She has more than 15 years of experience in calligraphy training for children and teenagers.
Mr. Ji MA (May-June course teacher)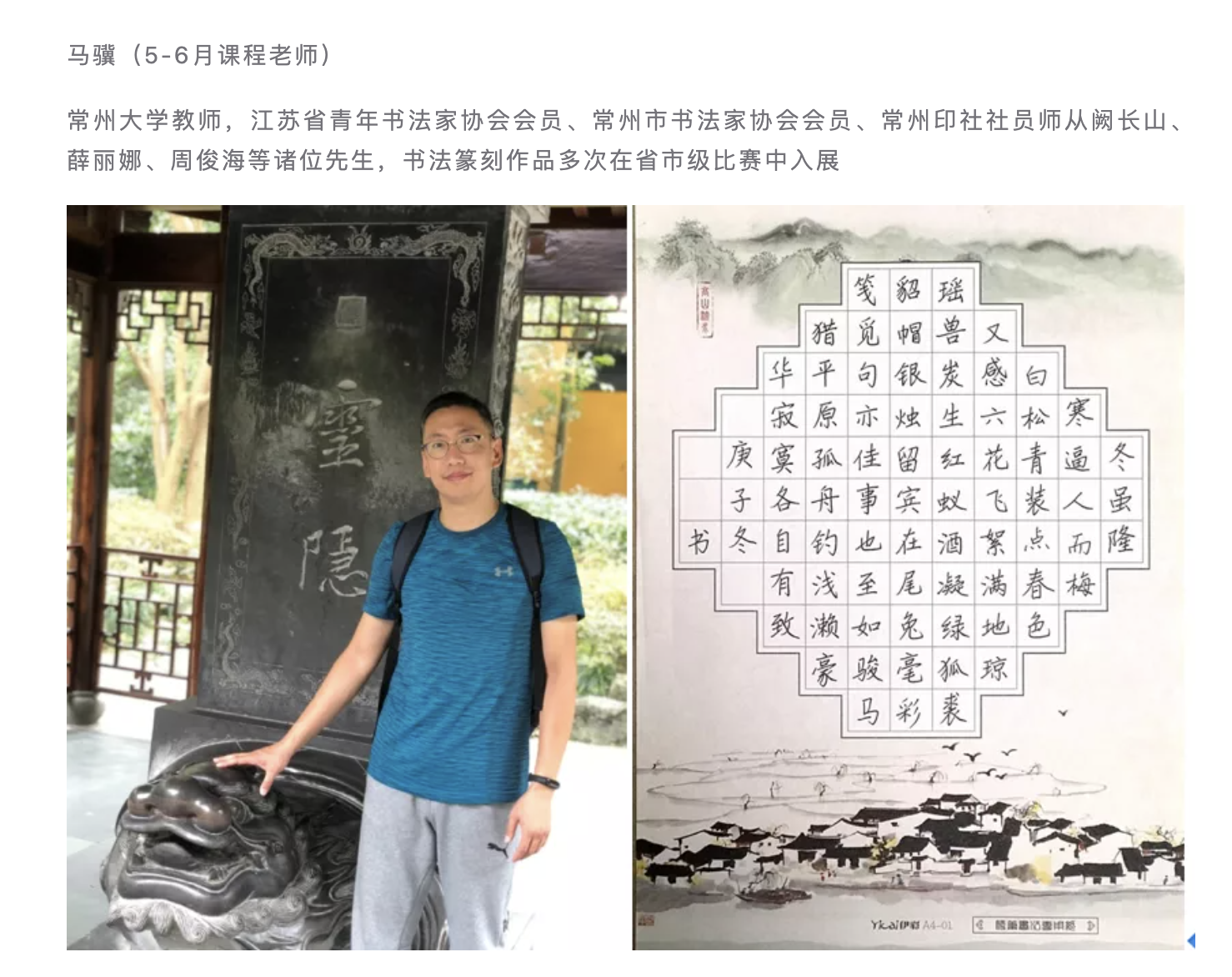 Teacher of Changzhou University, member of Jiangsu Young Calligraphers Association, member of Changzhou Calligraphers Association, and member of Changzhou Printing Society. He has been under the tutelage of Mr. Changshan QUE, Mrs. Lina XUE and Mr. Junhai ZHOU etc. His calligraphy and seal carving works have been exhibited in provincial and municipal competitions many times.
5. Registration
Class type: Dingding live course
Minimum age requirement: 6 years old. Parents are welcome to accompany.
How to participate:
Please register with the class teacher, then the class teacher will add the student to the WeChat group. WeChat groups are utilized to communicate and answer questions, to convene students and help students enter Dingding classroom.
Scan the code to enter Dingding course group. For the students who don't have an Dingding account yet, please register as soon as possible.