Geneva school holidays 2023
Vaud school holidays between 2018 -2026
International Baccalaureate
Geneva school holidays 2023
Vacances de février
du lundi 20 février 2023 au vendredi 24 février 2023

Vacances de Pâques
du vendredi 7 avril 2023 au vendredi 21 avril 2023

Fête du travail
le lundi 1er mai 2023

Pont de l'Ascension
les jeudi 18 mai 2023 et vendredi 19 mai 2023

Pentecôte
le lundi 29 mai 2023

Vacances d'été
dès le lundi 3 juillet 2023
Vaud school holidays between 2018 -2026

Jours fériés officiels 2023
Nouvel An : di. 1er janvier 2023 et lu. 2 janvier 2023

Vendredi Saint : ve. 7 avril 2023

Lundi de Pâques : lu. 10 avril 2023

Jeudi de l'Ascension : je. 18 mai 2023

Lundi de Pentecôte : lu. 29 mai 2023

Fête nationale : ma. 1er août 2023

Lundi du Jeûne : lu. 18 septembre 2023

Noël : lu. 25 décembre 2023

Vacances scolaires 2023
Vacances d'hiver : du sa. 24 décembre 2022 au di. 8 janvier 2023

Relâches : du sa. 11 février au di. 19 février 2023

Vacances de Pâques : du ve. 7 avril au di. 23 avril 2023

Pont de l'Ascension : du je. 18 mai au di. 21 mai 2023

Lundi de Pentecôte : lu. 29 mai 2023

Vacances d'été : du sa. 1er juillet au di. 20 août 2023

Jeûne fédéral : lu. 18 septembre 2023

Vacances d'automne : du sa. 14 octobre au di. 29 octobre 2023

Vacances d'hiver : du sa. 23 décembre 2023 au di. 7 janvier 2024

E-learning resources
Chinese 900 : http://chinese900.chinesecio.com/loginfore/homePage
Institut Confucius class online : https://mooc.chinesecio.com
Online course
How to register for our online courses?

Step 1, register at our official webiste: www.chinesecio.com with your email account, set your own username and passwords, confirm your passwords and complete the verification.

Step 2, click "register" and we will send an account activation letter to your email address. Please check your letter and activate your account by clicking the attached link, and loggin on your account.

Step 3, choose "Chinese Learning" on the bottom of the website and enter the "Global Confucius Institute Mooc Platform". Then you can choose the online course you would like to join.
We hope you enjoy your learning experience!
International Baccalaureate
Job vacancy
Job vacancy:

Chinese Institute Geneva Foundation is recruiting more teachers from September this year to work in Nyon and Geneva.

Requirements:

1. Experience in Mandarin teaching or Normal University diploma would be an advantage.
2. Being able to work on Wednesday afternoons, constantly from September to 2018.

Regular wage is paid on an hourly basis.
Please send us your CV to ciggeneva@gmail.com or contact@ciggeneva.ch
Exams
HSK Geneva :
YCT Geneva :
News
Chinese New Year 2024
Congratulations to the 15th Anniversary of Chin...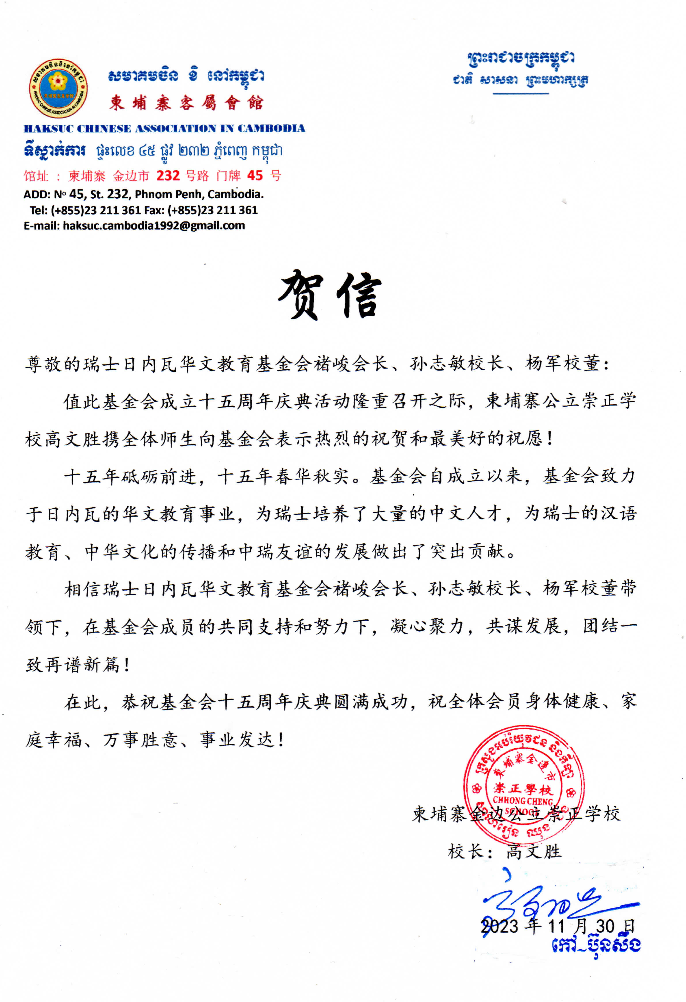 ...
[09.11.2023]
Visit of the Beijing Federation of Returned Ove...
[19.10.2023]